From ice skating to the world's largest inflatable obstacle course, and lego dinosaurs to a magic show, there's a heap of super cool activities to keep kids entertained these winter school holidays. Motiv8 Sports also have FREE 2-day Olympics camps to give away to the first 50 kids registered – so book fast!!
Adventure Camp 
At Adventure Camp, we are passionate about getting kids outdoors and our 3-day school winter school holidays camps will be packed full of Adventure to get your kids outside and away from screens this winter.
If you believe the outdoors are important and after something fun and action packed for your kids these school Holidays, Adventure Camp is just for you. We provide an active, fun outdoor experience in an environment that helps to fulfil your kid's basic needs for freedom, experimentation, risk-taking, socialising and, of course, adventure. It's a place for them to run around, use their imagination, to make new friends and be themselves with no phones or iPads.
We will be building, cracking codes, solving some great problems and bringing you some brand-new games and challenges to keep your kids active these holidays.
Camps on Sale Now! We have 6 camps across 3 great locations this winter.
Dates:
Monday 27th – Wednesday 29th June
Wednesday 6th – Friday 8th July
Monday 11th – Wednesday 13th July
Locations:
Balmoral – 1st Balmoral Sea Scouts hall
Northbridge – Northbridge Sailing Club
Greenwich – Greenwich Sailing club
Cost:     $299.95 per person for 3 days
Bookings: you can book in via our website www.adventurecamp.com.au
Motiv8sports 2 Day Olympics School Holiday Camp
Join Motiv8sports Willoughby North Sydney and Get MOTIV8TED during the July school holidays and join us for our Biggest Multi Sport Event of the Year! The Motiv8sports Olympics Camp!
Held only once each year the Motiv8sports Olympics is the heart and soul of our multi-sports calendar year. Campers will be treated to an incredible array of our trademark team sports in an environment full of energy, motivation and unbelievable guidance from our incredible team of coaches. Click here for the video: https://youtu.be/Dkt8_8UciTE
10 amazing sports, 10 individual events, 2 Olympic Face-Offs, non stop motivation, incredible prizes and possibly an Olympic Medal. With a live DJ pumping the beats and multiple prize giveaways, which team will do battle to be crowned the Champions of Motiv8sports Olympics 2022.
-Kindy to Year 6
– 8.30am- 3.30pm
– Non stop sports, music, and high energy all day long
– All new campers receive their very own Rookie Jersey as part of their Milestone rewards program that they get to wear during camp
Location, Dates and Times:
We have 2 camps running these holidays.
Location 1: Shore School Northbridge 7th & 8th July 8.30am – 3.30pm
Location 2: Gore Hill Oval 14th & 15th July 8.30am – 3.30pm
Cost: $0-$125 (Creative Kids voucher accepted)
To Book: https://motiv8sports.com.au/locations/willoughby-north-sydney/
Facebook Page: https://www.facebook.com/motiv8sportswilloughbynorthsydney
***Special Offer for North Sydney Living members: 50 FREE 2 Day tickets, valued at $125, to the first 50 people. Code to redeem is living50
Aussie Gems July School Holiday Program 2022
Take your child on a fun adventure at the Aussie Gems July School Holiday Program 2022! The best way to enjoy and learn at the same time.
5 years and older are welcome
Qualified Coaches
Morning tea & lunch provided (GF/Vegetarian available)
5 hours of non-stop fun
All types of activities including Ninja, Gymnastics, Cheerleading, Free Play and a different craft activity to take home
Limited Spots
Prepaid Only
After School Holiday Program is finished on the first week of the school holiday, the fun continues with our Holiday Tumbling & Gymnastics classes. Get warmed up for Term 3 and develop your skills even on the holidays! Please check our timetables on our website for registration.
Good to Know: 
– Drop off is any time from 8am to 9am at the latest. Pick up is between 3pm to 3:30pm. After 3:30pm you will be charged $1 per minute late. Please ensure you are on time.
– We provide morning tea and lunch; all you will need to bring is a drink bottle. Please pack a hat and sunscreen in case it's a nice day and we eat lunch outside.
– It is recommended that your child wear comfortable clothes they can move around in eg. a T-shirt, shorts, leggings etc. If your child is prone to accidents, please be sure to pack a spare pair of undies and pants.
– If your child has friends coming on the same day, they will be able to be in the same group. Please let the coaches know on the day and we can make this happen.
Location: Unit 10, 25 Frenchs Forest Road East, Frenchs Forest
Pricing: $75 per day for School Holiday Program, Holiday Tumbling/Gymnastics Classes $22 per 1 hour class OR $60 for the week and $30 per 1.5 hour class OR $90 for the week.
Dates: School Holiday Program: From Monday 4th July to Friday 15th July (No weekends); Holiday Tumbling/Gymnastics Classes: From Monday 4th July to Thursday 7th July
Email: info@aussiegems.com.au Phone number: 02 9451 5706 Website: https://aussiegems.com.au/
The House Down Under, Entertainment Quarter, Moore Park
Flip your life upside down at Australia's first inverted house photo experience, House Down Under. This fun and unique attraction is not only for the kids but for adults too. Defy gravity and capture the most surreal photos to confuse your family and friends. A great way to have a good family time and a great upside-down experience.
Location: Entertainment Quarter, Moore Park
Dates: 26 March – 25 July, 10am-10pm
Cost: Adults: $27, Kids (4-15 years): $19, Concession: $23, Family pass: $52-74)
Bookings: https://www.entertainmentquarter.com.au/event/house-down-under/
Puppeteria Theatre, Castle Cove
Enjoy the art of puppetry with your young ones at the Puppeteria Theatre in Castle Cove. Each holidays there are new shows to enjoy so check the program for details.
Location: Puppeteria Theatre Castle Cove
Date and time: Various dates and times (please see program on the website)
Cost: Child: $12 – Adult: $15
How to book: https://puppeteria.com/
St Ives Treetops Adventure + Playground
Families have a new experience to explore along the southern border of Ku-ring-gai National Park. St Ives is our newest Tree Ropes Course Park, hosting 95+ aerial obstacles and 10+ ziplines, all suspended between platforms to create a maze of activities in the treetops. Courses start at 1m for little climbers and jump up to 15 metres for bigger adventurers!
Sessions run for 2.5-hours to climb as many courses as you can during your session. You can choose to start on low easy courses or go straight up on a higher course. If you don't feel like climbing up on a higher level, you are always welcome to complete a lower or same course again during your session. Your session includes harnessing, training and approx 2-hours of climbing.
When you're done there's a spectacular new playground to explore as well!
Location: 450 Mona Vale Rd, St Ives
Opening hours: School and Public Holidays Monday – Sunday 9am-5pm
Website: https://treetopsadventure.com.au/location/st-ives/
Tuff Nutterz, Centennial Park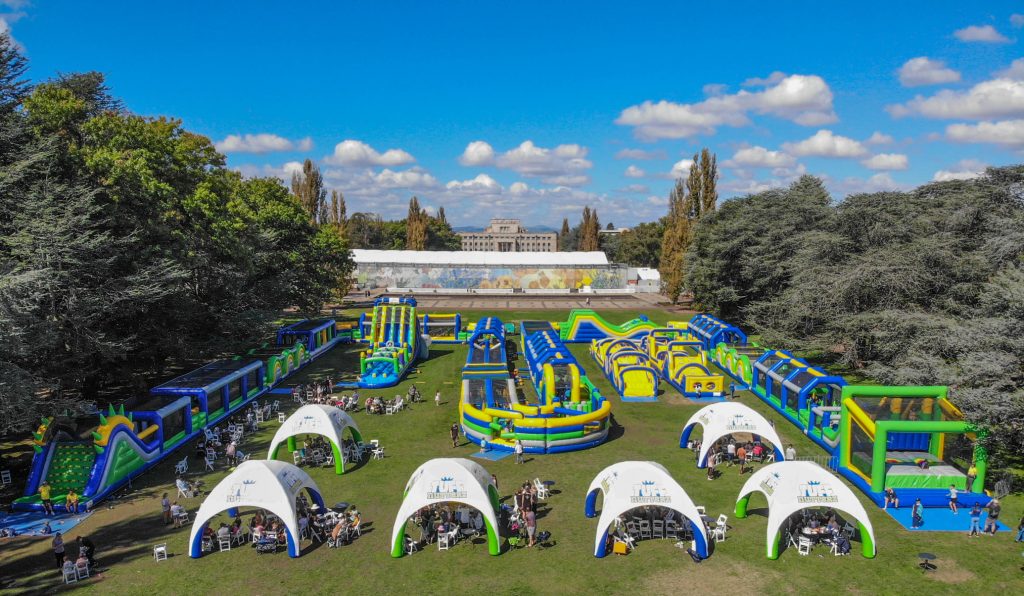 The world's biggest inflatable obstacle course is taking over Centennial Park these winter school holidays. There are 30 fun and challenging obstacles to complete in their brand new, 300m supersize maze. Giant slides, hanging rails, climbing walls, balance balls, you name it… All ages are welcome (parents included) and there's a smaller obstacle course for the little ones. Four sessions run each day for 1:45 mins and bookings are strongly recommended to avoid disappointment.
Where: Grand Drive, Centennial Park
When: Sat 9 July – Sun 17 July, 9am – 5pm
Cost: $25-$40
Tickets: https://fareharbor.com/embeds/book/tuffnutterz/items/310276/calendar/2022/07/?flow=688875&full-items=yes
Bill Brushtail and the Case of the Missing Habitat, The Royal Botanic Gardens
Does your kid love to solve mysteries? Bill Brushtail the Private Detective has been called in by a mysterious client to find the missing client. Follow the clues and help Bill solve the case!
This roving performance through the garden will have plenty of audience participation and you'll get to meet lots of fun and interesting characters along the way.
Where: Rathborne Lodge Lawn, The Royal Botanic Gardens
When: Mon 11 July, 10:30 – 11:30am & 1 – 2pm
Cost: $12.50-$14
Tickets: https://www.rbgsyd.nsw.gov.au/what-s-on/outdoor-theatre-bill-brushtail-and-the-case-of-the
Other activities at the Royal Botanic Gardens include:
10 & 24 June: Ghostly Garden Tour
11 & 12 July: Luminous Eco Lantern Making Workshop
11 & 12 July: Garden Grubs
Jurassic World by Brickman, Australian Museum
You don't want to miss this immersive Jurassic World adventure at Australia's largest LEGO® brick exhibition. It took 6 million LEGO® bricks, 2 years and more than 10,000 build hours to bring this exhibition to life.
As you walk through the iconic gates of the park, you'll be greeted by large-scale dinosaurs, including the new, 4.8m long Baryonyx. The kids can also get hands-on with LEGO® brick palaeontology, mystery mosaics, island-building, hybrid dinosaur creations and more.
Where: Basement level, Australian Museum
When: Until Sunday 17 July, 10am – 5pm
Cost: $25-$35
Tickets: https://australian.museum/exhibition/jurassic-world-brickman/
Bondi Festival Ice Rink, Bondi Beach
Nothing says winter like a trip to the ice rink! The world-famous Bondi Festival Ice Rink will be open daily throughout the Bondi Festival and everyone is invited for a skate. You'll get to glide across the ice (or shuffle if you're a first-timer) – all whilst enjoying the best view in town. There are ice skates for all sizes and push-along penguins for the little ones.
Where: Bondi Festival Ice Rink, Bondi Beach
When: Friday 1 July – Sun 17 July, 10am – 9pm
Cost: $15-$25
Tickets: https://www.bondifestival.com.au/event/bondi-festival-ice-rink/
Taronga On Ice, Taronga Zoo
Zip up your puffer, brave the cold and have a wild time at Taronga Zoo Sydney's open-air, pop-up ice rink these winter school holidays. Set against the backdrop of Taronga's iconic heritage gates, Taronga on Ice is perfect for the entire family.
Taronga is proudly not-for-profit so a spin around on the ice not only gives you the chance to learn about the challenges facing Little Penguins in the wild, but also support the Zoo's vital conservation efforts. There's also a mini winter wonderland with pop up food stalls and hot chocolate to warm up after.
Where: Taronga On Ice, Taronga Zoo
When: Saturday 2 July – Sun 17 July, 10am – 7pm
Cost: $23-$28
Tickets: https://taronga.org.au/sydney-zoo/whats-on/taronga-on-ice
Pittwater Ice Spectacular
Get ready to glide your way around Pittwater's huge 30m x 8m Ice Skating Rink. Back by popular demand these winter school holidays, this Ice Skating Spectacular is ideal for friends, families and parties. It's a great chance to use your NSW Government Discover & Parent vouchers, however, these must be pre-booked in person at the Club.
Where: Ice Skating Spectacular, Mona Vale
When: Saturday 9 July – Sun 17 July, 10am – 6:45pm
Cost: $15-$20
Tickets: https://www.pittwaterrsl.com.au/ice-skating-spectacular
The Ultimate Magic Show, NORTHS
Prepare for some mind-blowing magic! Legendary, award-winning magician and illusionist, Jonas Jost, is hitting the NORTHS stage these school holidays. He'll perform an action-packed show, featuring comedy and tricks that will impress kids and parents alike.
Where: NORTHS Auditorium, Cammeray
When: Tuesday 12 July – Sun 17 July, 11am
Cost: $15
Tickets: https://norths.com.au/events/the-ultimate-magic-show-jonas-jost/
Dentist and A Movie!
Don't forget to book in for a dental check-up these school holidays as well. St Leonards Green Dental have a great movie ticket offer with each visit, so you can take care of little teeth and have some cinema fun as well.
You can read more about St Leonards Green Dental by clicking here. And you can make a booking via their website https://www.stleonardsdental.com.au/ and follow them on Facebook here https://www.facebook.com/StLeonardsGreenDental."'